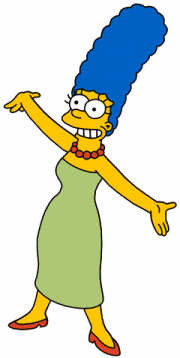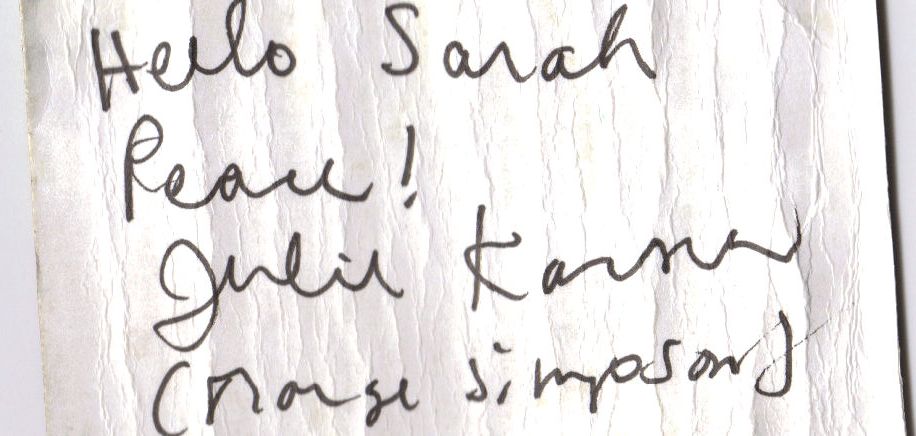 Did you know that Julie Kavner also starred on the show Rhoda? She was also friends with Tracy Ullman appearing in numerous shows. The Simpson's cartoon had it's debut on the Tracy Ullman show in 1987!
Well, an interesting thing has taken place. By chance, we now have a new type of scroll. I am sorry to say but these scrolls are not for sale but perhaps they will be inspiration for you to start a series of your own.
Last week, A friend and I were traveling to a gift show. She stopped into the bank and I waited for her in the car. As I waited, I heard a voice. I recognized that voice in an instant, being a huge Simpson's fan. It was Julie Kavner. The lady that does the voice of Marge Simpson. I approached her trying to be sensitive to the fact that she must have been very busy. I asked her if she could sign a scroll for my daughter Sarah and told her that both Sarah and I have loved to watch the show for years now. She was very sweet and of course, I gave her a Scroll Necklace! She was curious about it so I explained it to her and it was so cute, she said "Ohhhh, I see" as she wen't into her Marge Simpson voice. Very nice lady of course.
So Julie Kavner is the first in our series of Autographed Scrolls. I hope that she is enjoying her scroll necklace and I hope you are too! Watch for more Celebrity Scrolls to come from those that you already know and those that I know are destined to be famous!....Monica.